We answer the most frequently asked questions at Healthy Smile Dental about Invisalign treatment in the FAQs below.
Invisalign Treatment FAQs*
*If you cannot find the specific question you have in mind, please call our helpful reception on 07 3219 9806 (Underwood) or 07 3273 3220 (Calamvale) for more information – or to book a FREE Invisalign consultation.
What is Invisalign?
Invisalign is a convenient, hygenic and almost invisible orthodontic treatment that utilises clear, plastic aligners to realign and straighten teeth.
How does Invisalign work?
The Invisalign system works using a series of almost invisible aligners that are custom designed and fabricated by your Invisalign provider.
Sets of aligners are worn for a fortnight before you change over to a new set which shifts your teeth incrementally each time.
When you get to your last set of aligners according to your treatment plan, your teeth should all be in their final desired positions.
What types of Invisalign clear aligners are available?
 Invisalign First: Designed for kids aged 7-11 years to treat and improve a range of developing teeth straightening issues.
Invisalign Teen: For active, younger teens who still have erupting teeth and lower jaw advancement issues.
Invisalign Express (i7)/Invisalign Lite: For adults with minor teeth alignment issues. Ideal solution for minor front tooth corrections over a 3 to 7 month period.
Invisalign Full: A comprehensive 12 to 18 month treatment plan specifically designed for adults who require mild to moderate orthodontic ttreatment.
What tooth correction issues are suitable for Invisalign treatment?
Invisalign can help improve and correct a range of tooth correction issues including:
Dental crowding (crowded teeth)
Crooked teeth (rotated, twisted or misplaced teeth)
Over bites and under bites
Spaces or gaps between teeth
Crossbites
What are the benefits of Invisalign?
Invisalign provides a range of oral health and lifestyle benefits, including:
a firm, comfortable fit without irritation to your gums and other soft tissue
virtually invisible so that others won't even notice you are wearing aligners
better oral care and hygiene as Invisalign aligners are removable
convenient removal for dining and socialising for up to 4 hrs per day
fewer dental visits required for adjustments with up to 2 months of aligners supplied 
What happens during a typical Invisalign treatment?
An Invisalign treatment plan has four treatment stages including:
Invisalign consultation and oral assessment
Discussion and planning a customised treatment plan with your Invisalign dentist
Design and fabrication of aligners by Invisalign
Active Invisalign treatment period
How many hours a day do you have to wear Invisalign aligners?
You will need to wear Invisalign aligners for approximately 20-22 hours daily to achieve maximum results.
How often do I have to change my Invisalign aligners?
Typically, each set of Invisalign aligners should be worn for a fortnight. However,  your Invisalign treatment plan  may vary depending on the individual.
How often do I need to visit my dentist during Invisalign treatment?
You normally receive enough Invisalign aligners to last approximately 6-8 weeks. By the end of this treatment period, you will need to revisit your dentist for an assessment of your progress and for them to make any necessary adjustments and fine tuning to your next sets of clear aligners.
How many sets of aligners can my Invisalign dentist provide at any one time?
You can receive approximately 3 to 4 sets of Invisalign aligners every 6 to 8 weeks. For a more accurate estimate, your Invisalign dentist will inform you on how many sets you can be provided with at each successive stage of your Invisalign treatment.
How long does it take before I notice improvements using Invisalign?
Depending on the complexity of your teeth misalignment issues, you will begin to see noticeable improvements to your smile after a few months.  
How much does Invisalign treatment cost?
Invisalign treatment will vary in cost due to the complexity of your teeth correction issues. Typically, active Invisalign treatment fees range from $2500 to $7000 which compares favourably to traditional orthodontic treatments including braces.
Can claim the costs of Invisalign treatment from my health fund?
If your extras cover for major dental includes orthodontic treatment, you should be able to claim a rebate. Check with your health insurance policy or provider to calculate your rebate amount.
Does Healthy Smile Dental provide payment plans for Invisalign treatment?
Yes, we have interest free payment plans available so that you can access Invisalign treatment more easily to suit your budget. For more information, visit our Interest-free Payment Plans page.
How does the costs of Invisalign treatment compare to braces?
Invisalign treatment costs compare favourably to that of other orthodontic  treatments including braces.
Your dentist will inform you at your Invisalign consultation about any potential  treatment factors that may adjust your overall costs.
How comfortable is Invisalign to wear day-to-day?
Invisalign aligners are generally quite comfortable to wear. However, you may feel some minor discomfort whenever you start wearing each new set of aligners. Minor pressure sensations commonly occur as your teeth readjust to the new set of aligners. These sensations should subside after a few days.
Can pregnant women receive Invisalign treatment?
Yes, pregnant women can receive Invisalign treatment because the aligners are 100% bio-safe and can be worn throughout pregnancy. The biggest issue with pregnant women undergoing teeth alignment treatment of any type are pregnancy hormones which may loosen their teeth due to ligament laxity.
Morning symptoms such as vomiting may also impact on a pregnant woman's oral hygiene. In general, it is recommended that you  commence Invisalign treatment a month prior to conception or during the 2nd trimester when planning your pregnancy.
Can I remove Invisalign aligners when I sleep?
Unfortunately not. There is a requirement to wear Invisalign aligners for 20-22 hours a day to achieve a successful result. However, sleeping while wearing Invisalign aligners should not cause any sleep issues.
You should only take off your Invisalign aligners for eating, drinking and cleaning your teeth.
Can I use chewing gum or smoke while wearing Invisalign clear aligners?
Chewing gum or smoking while wearing Invisalign aligners is not recommended. Chewing gum may cause your aligners to stick together and fall out while smoking will cause them to darken in colour.
If you need to do either habit, remove your aligners first and replace as soon as possible. Any unnecessary time spent not wearing your aligners may impact on the success of your Invisalign treatment. Wearing your aligners for 20-22 hours a day minimum is a requirement.
If I go travelling for a holiday, can I take additional sets of aligners?
Yes, you can continue to wear your aligners while you are away for holiday. However, you will need to keep to youir regular review appointments to make sure your treament plan stays on track. Your dentist can also make any necessary adjustments to your treatment plan if required.
Always consult with your dentist if you plan to travel.
What happens if my Invisalign treatment experience becomes painful?
If you feel pain or prolonged discomfort during Invisalign treatment, you may have a treatment-related issues. Remove your aligners and book the earliest visit to your dentist to resolve the problem.
 Your Invisalign treatment plan is designed very carefully to offset any potential discomfort or strain on your teeth and gums.
Will wearing Invisalign aligners affect my speech?
Yes, wearing Invisalign aligners may affect your speech initially as your tongue gets familiar with the different contours created by the aligners within your oral cavity.
Once your tongue is used to these new sensations, any effect on your speech should disappear.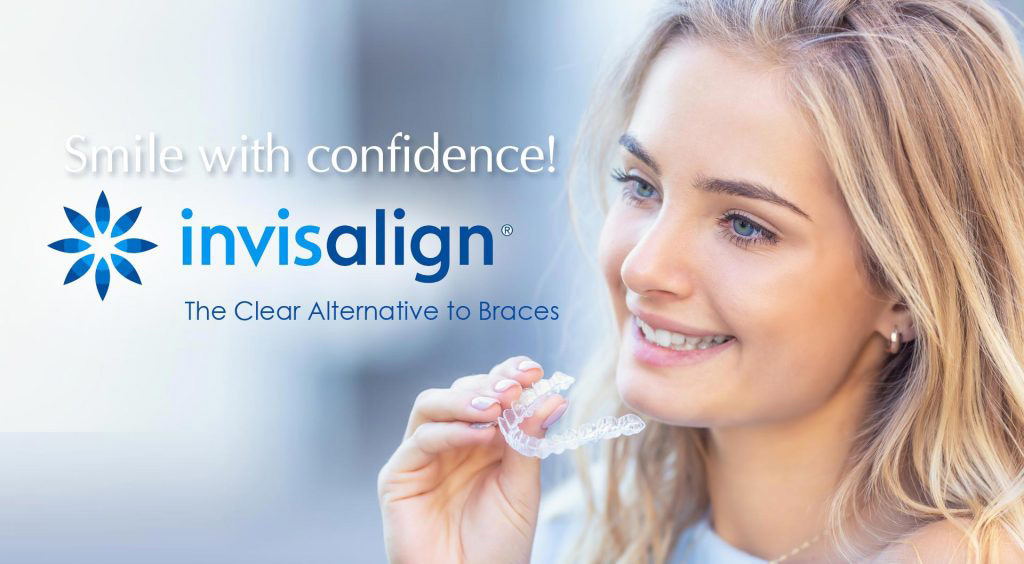 Book your
Invisalign
consultation
today!
Ready to get the smile of your dreams? If you're ready to find out more or to book a consultation at Healthy Smile Dental, simply fill out the contact form and we'll get right back to you!