Peter's Direct Composite Veneers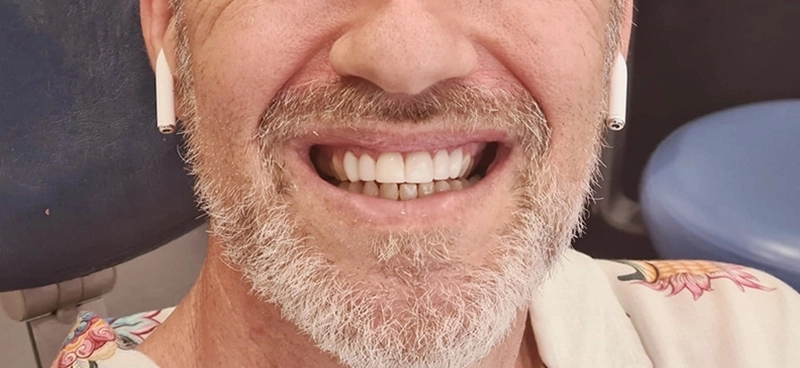 Our patient, Peter, came to our clinic after having heard about Dr. Julian through a close group of friends. Peter has always attended regular dental check-ups but has never been completely happy with his smile. Not giving it much thought as no one had ever discussed all the different options available to him.
Having a more aesthetic looking smile was something that interested Peter as he is involved in a lot of public speaking and group training sessions, often being recorded for video, social media, and TV purposes.
Peter mentioned that his wife had recently got porcelain/ceramic veneers done and was very happy with the result and new look. However, Peter didn't want to go through such a time-consuming and expensive process and wanted to retain as much natural tooth structure as possible.
He had heard about crowns before but didn't want to take away too much tooth structure to achieve a great smile. This is when Dr. Julian discussed the option of Direct Composite Veneers and what benefits they can offer to achieve a great aesthetic result.
Direct Composite Veneers could be done at a considerably less cost than Ceramic Veneers and Crowns when performed by the right clinician. Dr. Julian explained the benefits and limitations of this option and Peter felt empowered to start this journey to change his smile forever.
With the help of Dr. Julian, Peter was able to start his treatment to improve his smile and give him that confidence boost he needed. After seeing the results, Peter felt more confident in his professional and personal life, which can be seen in photos showing his beaming new Healthy Smile!
Dr. Julian can provide Direct Composite Veneers personalized to you. Enhance your smile and call our Calamvale branch to discuss your options on (07) 3273 3220